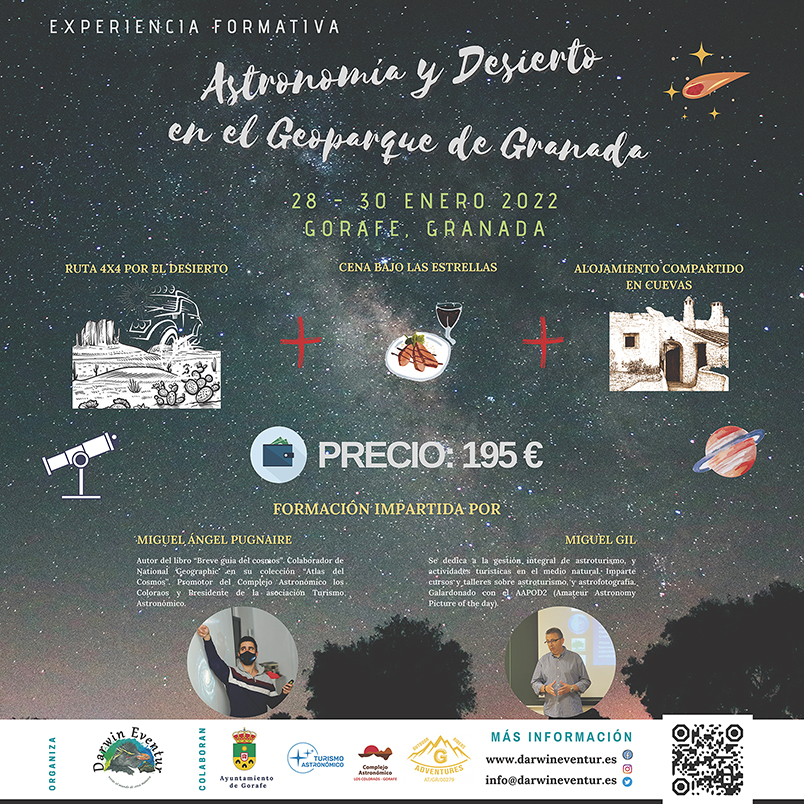 Duración: aproximadamente 25 horas.
Modalidad: PRESENCIAL (sólo 15 plazas).
Esta astroexperiencia aúna una formación de calidad para iniciarse en Astronomía, junto con la oportunidad de experimentar sensaciones únicas en un paraje indescriptible como es el Geoparque de Granada.
INCLUYE:
Curso con material didáctico.
Visita y uso de los telescopios del Complejo Astronómico los Coloraos situado en Gorafe.
Ruta 4×4 por el desierto.
Alojamiento en habitaciones compartidas en casas cueva.
Desayuno de bienvenida, cena bajo las estrellas, y almuerzo de despedida.
Seguro de accidentes.
Seguro Responsabilidad Civil (SRC).
Certificado de asistencia.
NO INCLUYE:
Transporte ida/vuelta Lugar de origen – Gorafe.
Desayunos, comidas, y cenas que no aparezcan en INCLUYE.
Todo lo que no aparece en el apartado INCLUYE.
Los docentes de la parte formativa serán:
D. Miguel Ángel Pugnaire: Autor del libro "Breve guía del cosmos" de Sonámbulos Ediciones. Colaborador de National Geographic en su colección "Atlas del Cosmos". Promotor del Complejo Astronómico los Coloraos y Presidente de la Asociación Turismo Astronómico.
D. Miguel Gil: Se dedica a la gestión integral de astroturismo, y actividades turísticas en el medio natural. Imparte cursos y talleres sobre astroturismo, y además es fotógrafo, especializado en fotografía de paisaje, nocturna y astrofotografía. Galardonado con el AAPOD2 (Amateur Astronomy Picture of the Day).
Va dirigido a la comunidad universitaria y a todo el público interesado.