Fecha: 19/11/2018
Hora: 13:00h
Lugar: Salon de Actos Edificio Mecenas
Ponente: DR. Gerhard Mohr. JOANNEUM RESEARCH Institute for Surface Technologies and Photonics de Graz (Austria).
Smart textiles mostly rely on integration of electronics into existing textile materials. However, these electronics have to survive washing at elevated temperatures using alkaline washing agents, ironing and eventually even sterilisation.
In order to provide stable sensor textiles, a different approach is possible by using indicator dyes covalently linked to the textile fabric. The indicator chemistry neither needs energy supply, data treatment, data storage nor a display, because the colour changes easily take place at room temperature and are visible for the human eye. Specific colour changes (e.g. traffic light colour changes from green to red) may aid in their interpretation.
Examples of different textile materials (e.g. indicator washcloths and indicator cotton swabs) and their possible applications are presented. New indicator dyes for various analytes and indicators based on fluorescence will be introduced and possible requirements by the industry will be discussed.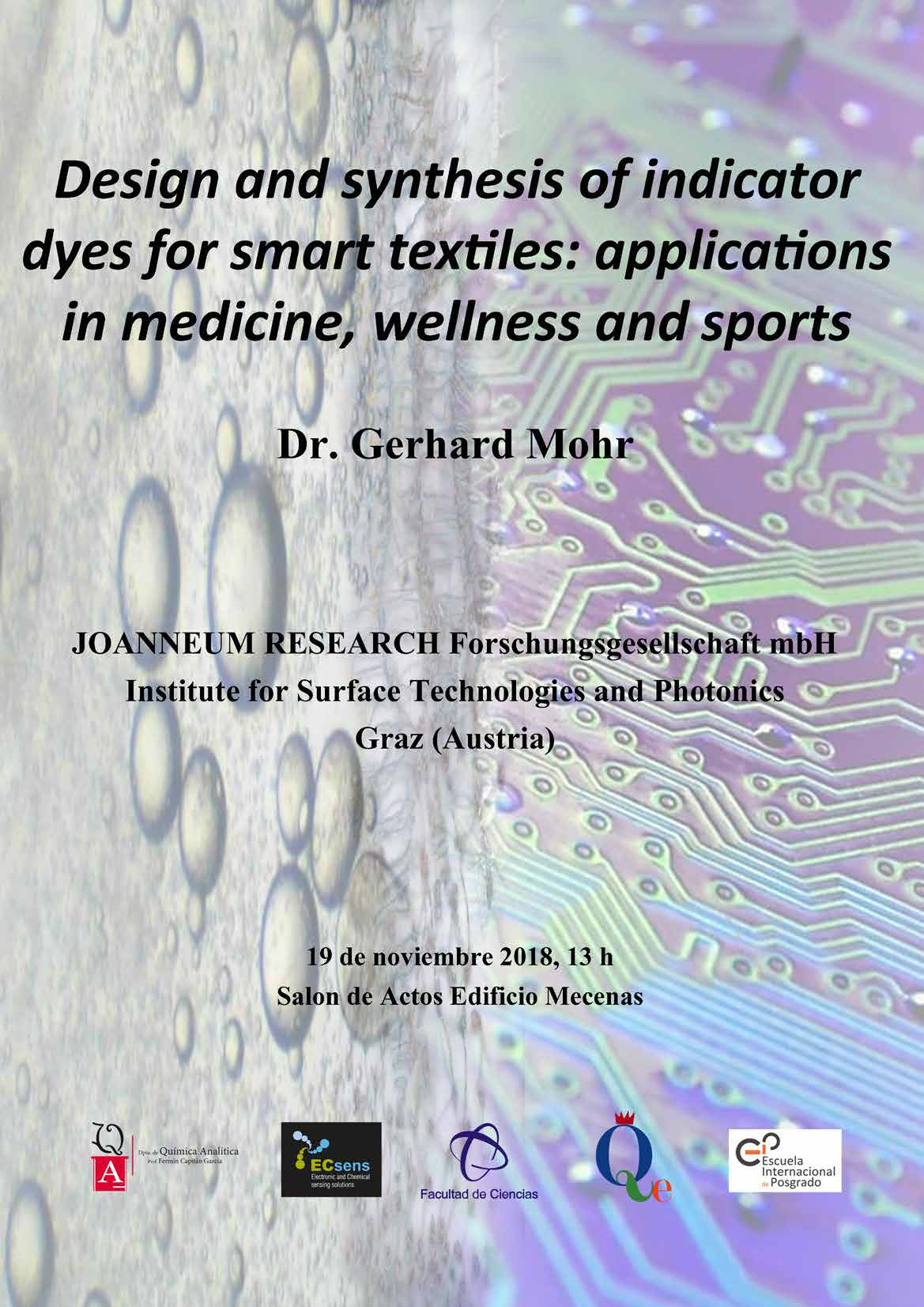 Escribir un comentario
Información básica sobre protección de datos personales
Responsable: Universidad de Granada
Legitimación: La Universidad de Granada está legitimada para el tratamiento de sus datos, siendo de aplicación las bases jurídicas previstas en el art. 6.1 del RGPD que correspondan en función de la finalidad pretendida por usted en el formulario de contacto.
Finalidad: Gestionar su comunicación.
Destinatarios: No se prevén comunicaciones de datos, salvo que sea necesario para gestionar su solicitud.
Derechos: Tiene derecho a solicitar el acceso, oposición, rectificación, supresión o limitación del tratamiento de sus datos, tal y como se explica en la información adicional.
Información adicional: Puede consultar la información adicional y detallada sobre protección de datos, en función del tipo de tratamiento, en la UGR en el siguiente enlace